Help Us, Help Them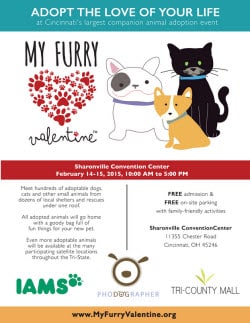 Even if you're not planning to adopt a new pet from My Furry Valentine this year, you can still help save the lives of the homeless animals in our city. We need volunteers to help distribute posters & fliers around town. 
Armed with thumb tacks, tape and a stack of MFV promotional materials, you can help us spread the word in your neighborhood. Keep an ample supply with you and drop them off anywhere and everywhere – vet offices, coffee shops, community boards, your employer, gym, school, doctor, dentist, favorite restaurant, etc.
More Posters = More Visitors = More Adoptions!

Distribute Posters at Your Favorite Cincinnati Hotspots
Help us spread the word throughout Greater Cincinnati. Pick up posters and postcards at the following hubs and distribute at your favorite hang-outs and pet-lover havens.
View all hubs and get directions here.
Moochie (Kenwood)
MedVet (Oakley)
Camp Bow Wow (Blue Ash)
Miami Athletic Club (Milford)
UCAN (Colerain)
Pet People (Montgomery Road & Hyde Park)

Towne Square Animal Clinic (Blue Ash)
Anderson Family Pet (Anderson)
Wags (Newtown)
Wordplay (Northside)
Deli Pet Center (Delhi)
Printable Posters & Flyers
Social Media & Website
Your friends are our friends… Help us spread the word on Facebook! Also be sure to visit our website often for the latest information.